大家去北欧会选哪间航空公司呢??是寰宇一家的芬兰航空,还是欧洲的航空公司(例如:英航,德航,瑞士航空,KLM,法航等)在欧洲转机,或是中东航空(卡塔尔航空,了阿联酋航空等)呢?? 今天,我们介绍这家是属于星空联盟,又是北欧的航空公司,不知道大家猜到是哪间航空公司吗??
Mai I know which airlines will you choose if you go to North Europe?? Is it Finnair,a member of Oneworld?? OR some airlines based in Europe,such as British Airways,Swiss Air or Air France?? Or Emirates/Qatar Airways??I will tell you my choice when I go to North Europe. The airlines is based on North Europe too. Do you know which airline is it??
可能,台湾人比较少看或知道,它就是北欧航空(SAS),它以丹麦的哥本哈根,瑞典斯德哥尔摩和挪威奥斯陆加勒穆恩机场所主要机场的。它每天有一班来往香港的班次,之前是直飞斯德哥尔摩,现在是直飞哥本哈根的。价钱比其他航空公司也便宜一点,因为飞斯德哥尔摩是早上航班,改飞哥本哈根就变了凌晨飞机了。
Maybe,some taiwanese don't know or never listen the airlines. It is SAS.They have three home bases which are Copenhagen,Denmark,Stockholm,Sweden and Oslo,Norway airport. They operated a flight daily. They had been flown Stockholm before.Now,they changed to operate Copenhagen non-stop flight. The price is cheaper than other airlines due to the time slot.They flow to Stockholm was a morning flight,however,they changed to a red eye flight to Copenhagen now.
(当时,特选经济舱只是7000多港币而已 We paid 7000HKD for a SAS PLUS seat )
我们这次会选它是因为方便,另一方面是因为我们飞的当天是飞A340飞机,没想过它在起飞前4小时才发信息说航班取消……
What's more,we wanted to try A340-300 aircraft too. However,SAS sent a message to us before the schedule time of departure.The message showed that the flight had been cancelled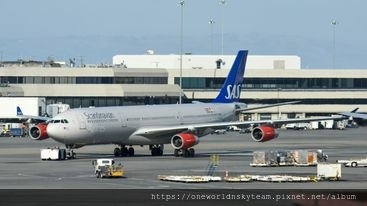 还记得当天我们已经在去机场途中,到达香港机场第二航厦后,找到SAS柜台,地勤职员说香港人要回家,可拿回出租车的收据,明天再回到这里,之后地勤人员也教大家可以申请欧盟EU261 航班取消赔偿~~~
We remembered that we had been departed to airport and arrived Hong Kong International Airport Terminal 2. We had been found the SAS check-in counter. The counter staff said that we had been returned our home and took the taxi receipt and claimed SAS the following day.What's more,ground staff said we could claim the EU261 compensation.
(EU261赔偿 : https://europa.eu/youreurope/citizens/travel/passenger-rights/air/index_en.htm)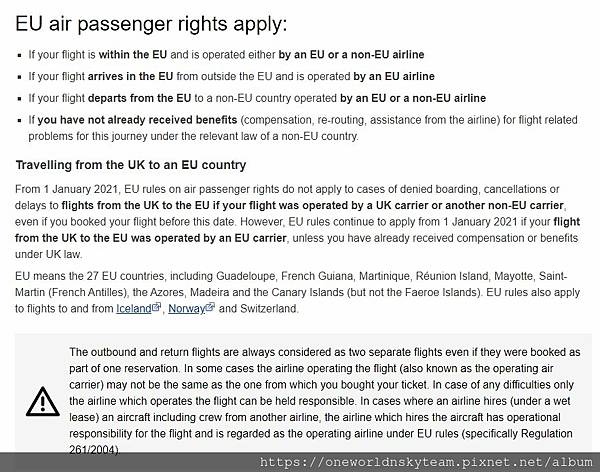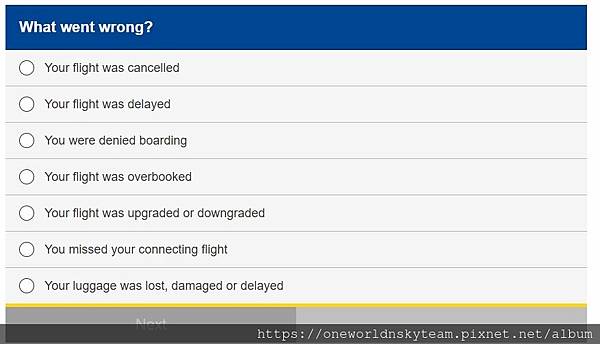 到了第二天,上一程飞机已经在斯德哥尔摩起飞,但飞机就不再是A340了,是比较普通的A330-300飞机。当然,我们还是坐在特选经济舱的座位了
We checked the coming flight had been departed ARN and went to airport in second day.However,it was not operated A340-300 aircraft and changed to A330-300 aircraft.We felt so lucky that we could keep the SAS PLUS seat. No need to downgrade to Economy Class.

航班

FLIGHT NO : SK964

航线 ROUTING

:

香港

/

斯德哥尔摩 HONG KONG TO STOCKHOLM

起飞时间 SCHEDULE TIME OF DEPARTURE

: 09:20AM

登机门

BOARDING GATE : 70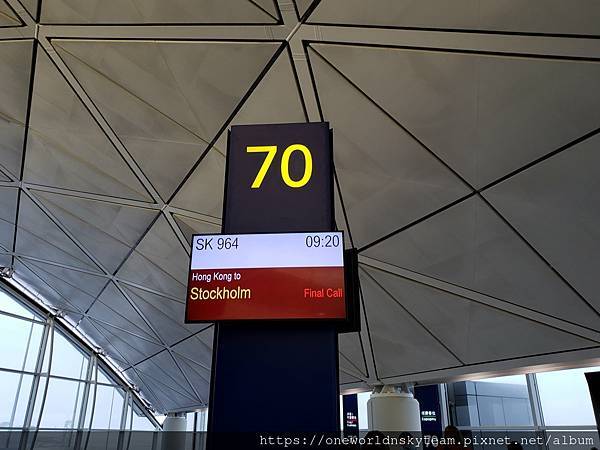 由于由第二航厦去70号登机门太远了,所以我们只停了一下新加坡航空贵宾室就去登机门了,到达登机门时,航班也已经最后召集,我们就马上跑到登机桥拍飞机,但的确70号登机门不太好拍,因为这位置比较少
Due to Terminal 2 and Boarding gate was too far,we went to Singapore lounge for a while only. The flight was final call when we went to boarding gate 70. We ran into the aircraft and took a photo but the gate was not a great place for spotting.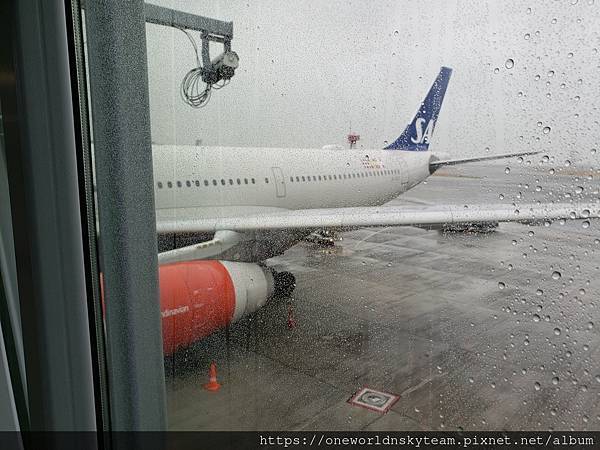 上飞机后,从飞机二门直走转右,就到达我们的座位,22E和22F,因为飞机的特选经济舱全满,所以我们选不了窗户座位了,而22A和22H是没有窗户的窗户座位
We arrived seat 22E and 22F after we boarded at door 2 and turned right. The flight was full,so we could not choose the window seat,but we saw the seat 22A and 22H was no window.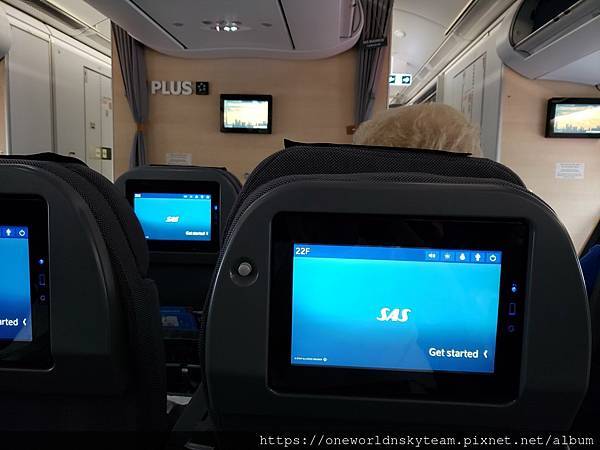 以2-3-2配置的特选经济舱,共有7排,提供56个座位。座位和个人电视一定比经济舱大一点,服务一定也比经济舱贴心一点,空服会派发过夜包和一枝水
For SAS PLUS,the seat configuration was 2-3-2. It had 7 rows and provided 56 seats totally. The different between SAS PLUS and Economy Class was the seat and the personal TV. SAS PLUS seat was bigger and larger than economy class seat.What's more, the crew would provide you a bottle of water and an amenity kits.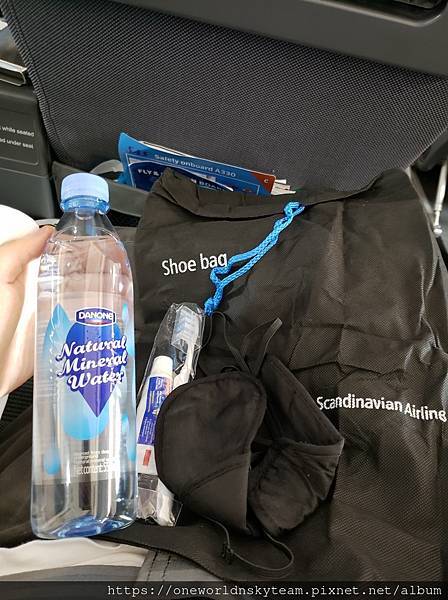 而餐单因为环保问题,所以他们没有纸张餐单和酒水单,只有在个人电视显示的电子版。飞机餐有两餐,一餐是起飞后派发的,一餐是差不多降落前2小时派发的,当然,飞行途中也会提供小吃
Europe is very focus on environmental protection,so SAS would not provide paper menu and drink list,only showed the menu in your personal TV. The catering had two meals which distributed after the flight took off and landed before two hours.Of course,for a long haul flight,we provided snacks or refreshment between two meal services.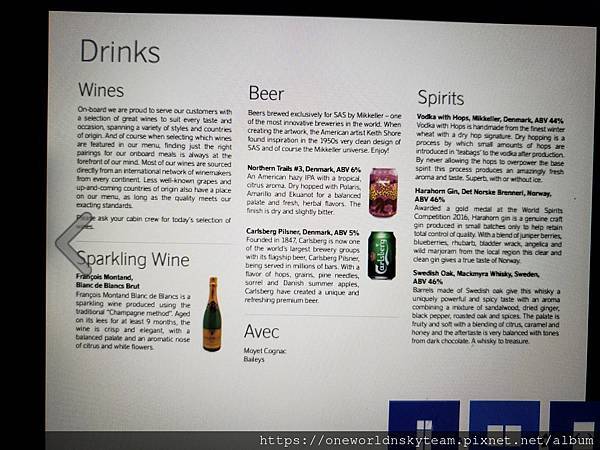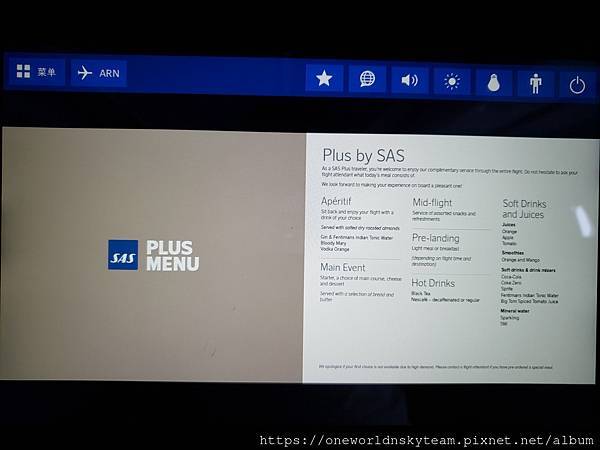 而飞机不少的是A330-300的安全须知卡 For the safety reason,you need to read the A330-300 aircraft safety card which located in the seat pocket in front of your seat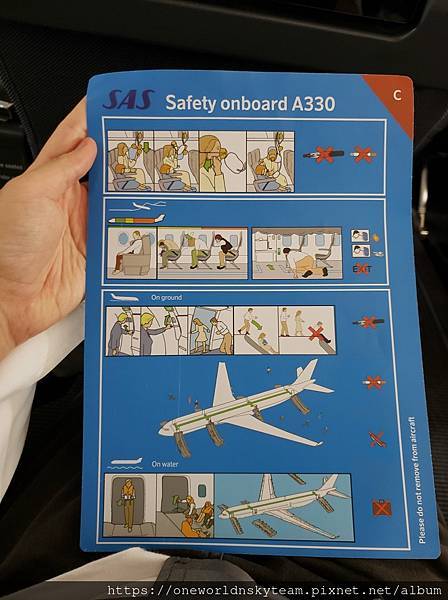 而当天飞行时间是9小39分钟,飞机从香港起飞,经中国,俄罗斯到斯德哥尔摩,给大家看看飞行地图 The duration time was 9hours and 39mins.The routing would take off from Hong Kong and flow to China,Russia and finally landed in ARN. Let's see the map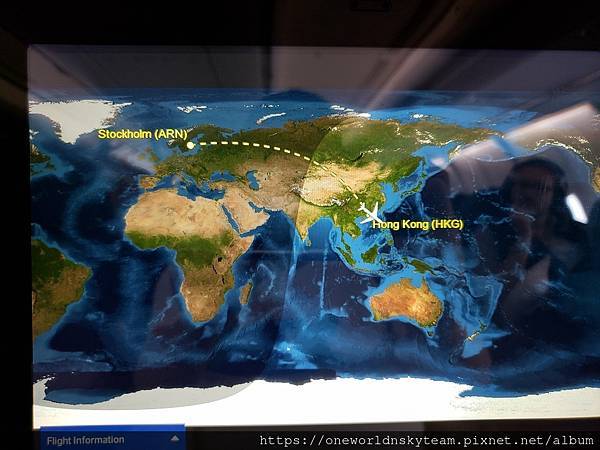 而我比较喜欢这个飞行信息和显示方法,好像跟Flightradar24没分别 The photo as below was my favourite because it was similar with Flightradar24. you could see the information details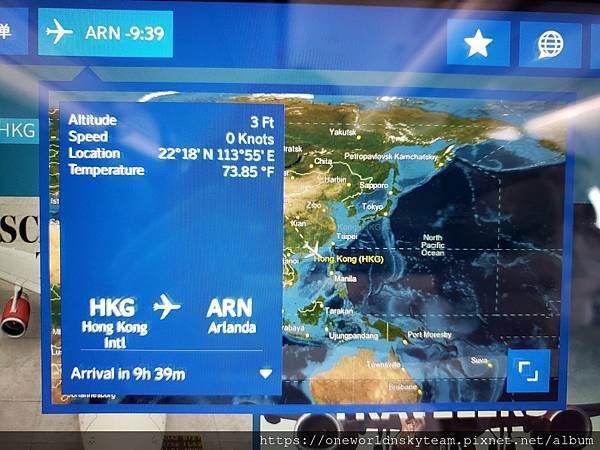 飞机开始后退,准备前往斯德哥尔摩~~(飞机晚了一点从07R起飞) The flight was pushback and ready returned to ARN (The flight was a liitle delayed and it took off in runway 07R)
起飞后,空服人员首先派发热毛巾 The flight attandent distributed the hot towel for you after the flight took off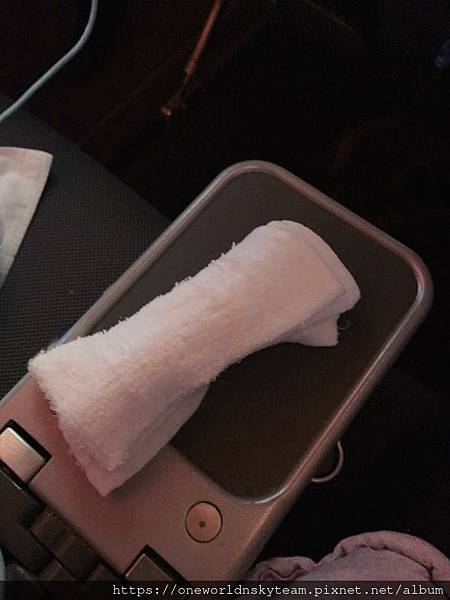 接着,空服人员派发饮料和坚果。Then,crew served beverages and nuts.
饮料方面,我选了IFRUIT MINI,颜色看起来好像忌廉汽水 For the beverages,I chose IFRUIT MINI which looked like Schweppers.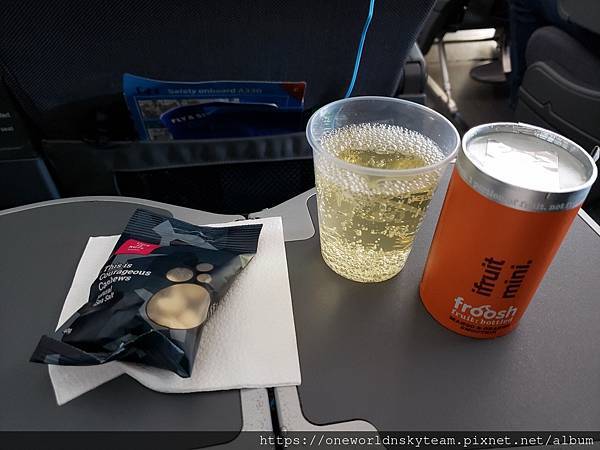 在慢慢吃坚果的时候,空服人员便推出餐车,派发第一餐,第一餐是饭,因为当时已经是大约香港时间11点了,所以可以叫午餐吧!!
When we enjoyed the nuts,crew was ready for the first meal service which was lunch service because the time was 11am left.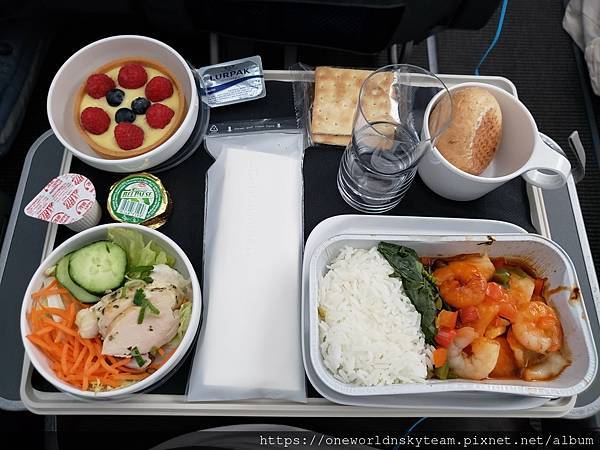 前菜 STARTER

:

鸡肉沙律 CHICKEN SALAD

一个面包 A BUN

一包梳打饼 A PACK OF CRACKERS

主菜 MAIN COURSE

:

海鲜饭配时菜 SEAFOOD WITH RICE AND SEASONAL VEGETABLE

甜品

/

甜点 DESSERT

:

水果芝士挞 FRUITS CHEESE TART

一杯水 A CUP OF WATER
结束第一餐后,我便参观了一下这A330-300的飞机,给大家看看特选经济舱的区域,其实SAS的特选经济舱不是叫特选经济舱,而是叫SAS PLUS,只是因为和特选经济舱一样,所以我才叫特选经济舱,
哈哈~~
We visited the aircraft after finished the catering.Let's us to show you the SAS PLUS cabin. haha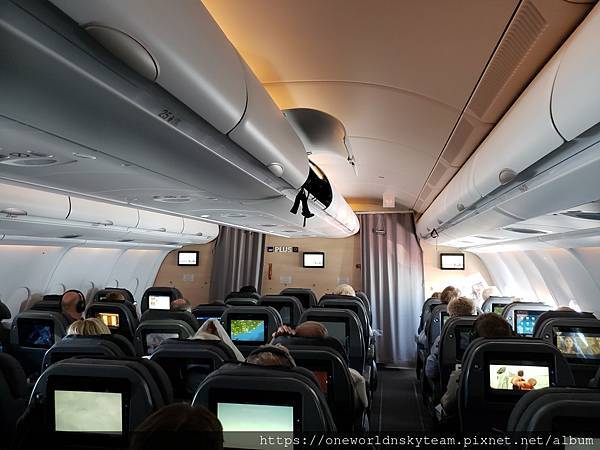 经济舱就在SAS PLUS后面,当天也是全满的,我们非常相信是因为前一天航班取消,他们把旅客转到今天(跟我们一样了~~)
The ecomony cabin was located after SAS PLUS. Of course,due to flight cancelled yesterday,the economy class was also full.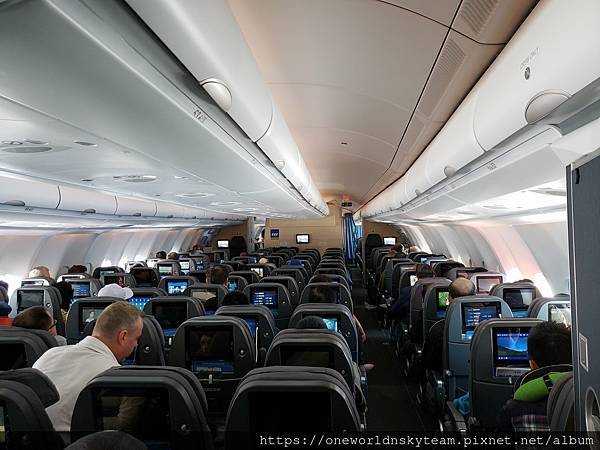 经济舱以2-4-2座位配置,有两个区域,旅客大多是跟我们一样的亚洲人,而飞机上也会有香港的空服在航班上,主要处理只懂广东话的旅客
In Economy Class,the seat was 2-4-2 configurated and seperated with two cabin. Most of the passengers were Asian and we paid attention that most of passengers spoke cantonese.
回到座位,不知不觉飞机已经飞到俄罗斯,表示飞机飞了大约4小时多了 The flight was flown around 4hours.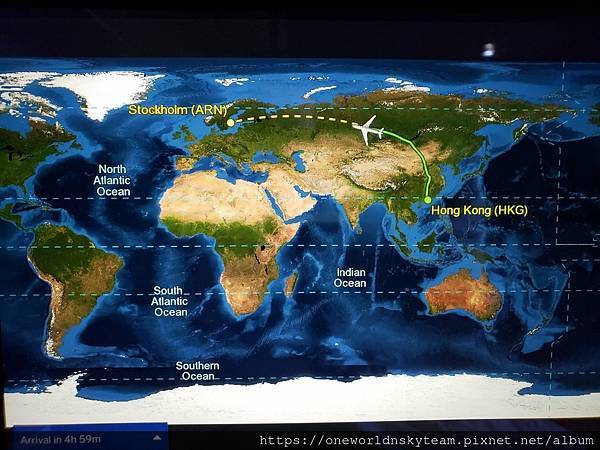 在飞行途中的小吃是一个火腿生菜面包。ANKY仔就不太喜欢吃面包,加上没有饮料提供(只靠上飞机时空服派的水),另外欧洲的面包应该会再好吃一点,所以我就当试一下而已~
For the refreshment,crew serveda ham and vegetable bread.Anky disliked the bun and bread and the crew did not distribute the beverages.However,I tried it because I through that the bread was so famous in Europe.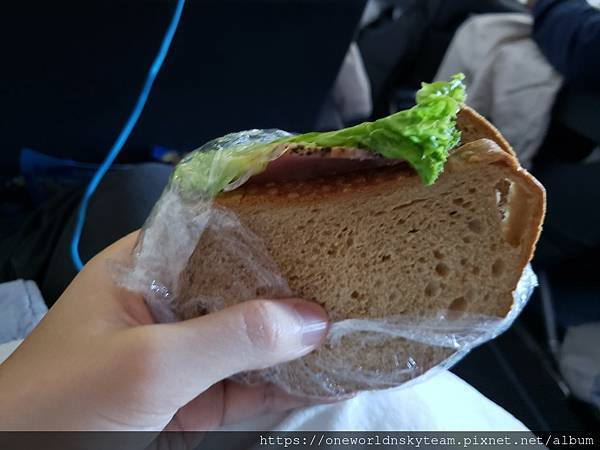 在降落前大约2小时,空服人员便开始派发早餐。9个多小时有2餐半,我们觉得已经好棒了 Flight attendant distributed breakfast before the flight landed ARN two hours. We felt it was too excellent because they provided two meal services and a refreshment in a 9hours flight.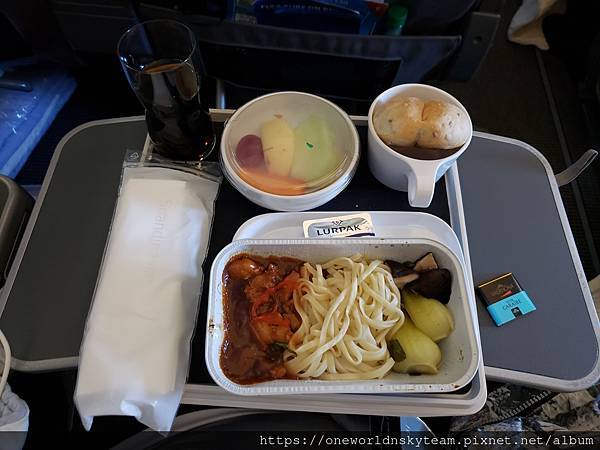 饮料 BEVERAGES

新鲜水果 FRESH FRUITS

一个面包

+

牛油 A BUN AND A BUTTER

主餐

MAIN COURSE :

面条 NOODLES

甜点

DESSERT :

一块巧克力 A CHOCOLATE
享受第三餐后,表示我们就很快到达瑞典的斯德哥尔摩。We enjoyed and finished the second meal services. That's mean the flight was ready descenting to ARN lol
下飞机后,我们拍了今天的飞机LN-RKT,在飞机头你就可以看见星空联盟的标志 After we disembarked the aircraft,we spotted and took photo to the aircraft. You could see the STAR ALLIANCE logo in SAS flight.What's more,you could see our flight which called LN-RKT.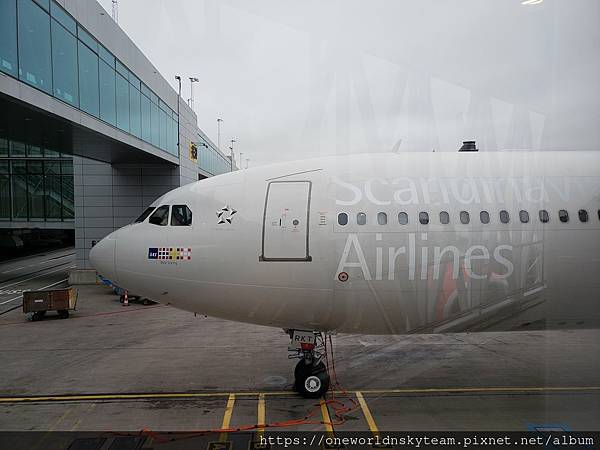 最后,最开心的是到了斯德哥尔摩的酒店,我们收到欧洲的回复,就是之前飞机取消的EU261赔偿,他们赔了6000多港币,所以整个SAS PLUS的机价只是1000多就坐到,真的好便宜阿~~
Finally,we heard a lucky and happy news that we claimed 6000HKD for EU261 due to flight cancalled before the day. That's mean we only paid 1000hkd left for the ticket. We felt it was a lucky starting for our trip. haha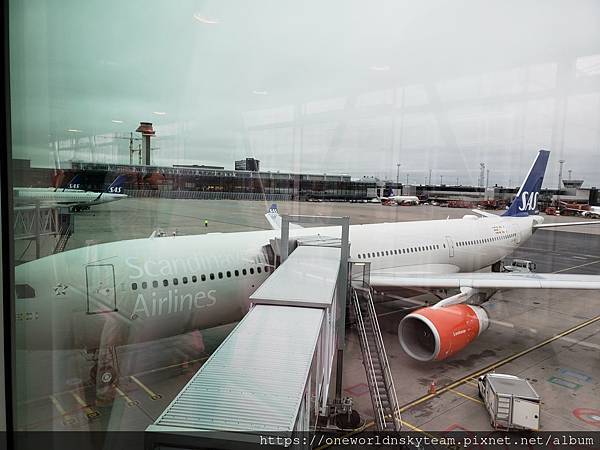 更多星空联盟的飞行记录 MORE FLIGHT ALLIANCE FLIGHT REVIEW: