Anky仔今天介绍是很久没写的香港代表 – 香港航空 HX254 由香港前往台北,并使用A330-200飞机执飞
Anky writes Hong Kong Airlines Business Class flight review today. It is a long time that I don't write this airline. The Flight Number is HX254 which operates A330-200 aircraft,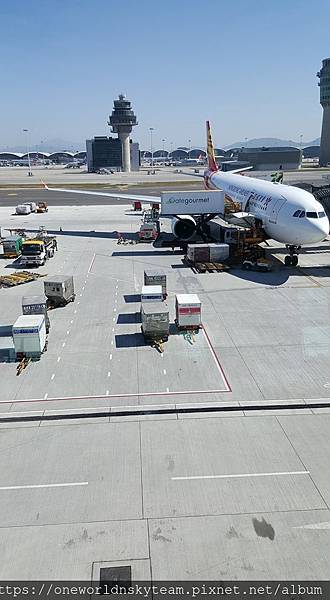 飞机 Aircraft Rego : A330-200 B-LND
飞机餐公司 Catering Service : Gate Gourmet
登机门 Boarding Gate : 209 (中场客运廊 Midfield Concourse Terminal)
A330有两个门可以连接登机桥,分别给头等/商务舱旅客,和经济舱旅客登机
There are two boarding door connect to the boarding bridge in A330 which will separate First Class/ Business Class passenger and Economy Class passengers when we board.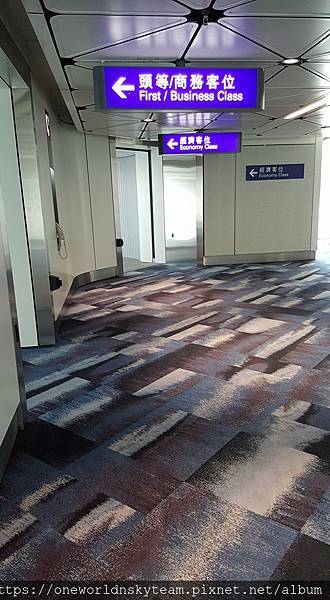 由于中场是比较新的航厦,所以登机桥的窗是用玻璃造的,方便大家拍飞机 All HX flights are parked at Midfield Concourse Terminal which is a new terminal in HKIA, so you see that the boarding bridge is made glasses.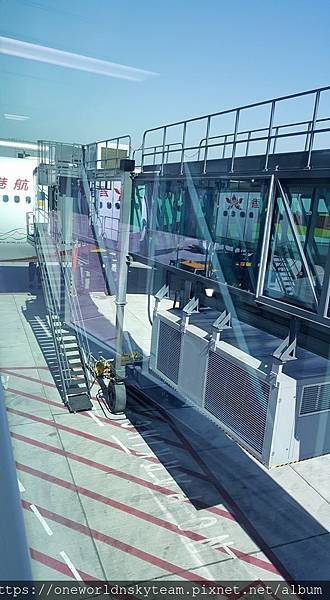 从商务舱登机桥登机,一进登机门就看到商务舱的座位,以2-2-2 配置,共4排,提供24个不能平躺的座位
You will see the Business Class seat when you board in First/Business Class Bridge. The seats configuration in Business Class is 2-2-2 total 4 rows and provided 24seats which are not flat bed.
商务舱人数 Business Class Loading : 3人 Only 3 passengers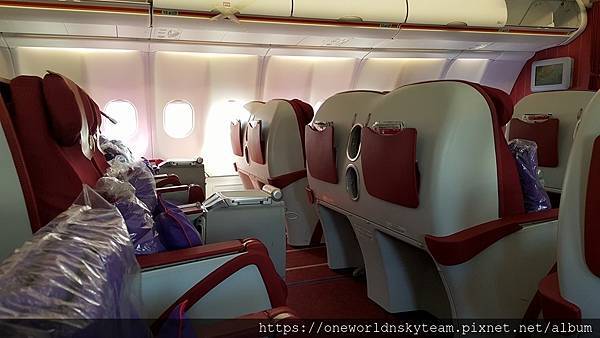 2个座位中间会有座位控制器 There is a seat controller between two seats.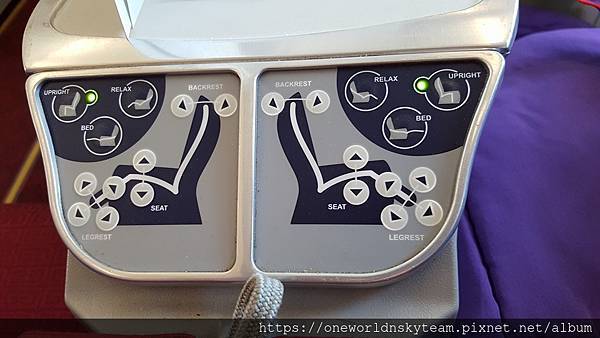 座位已有紫色的枕头和独立的毛毯 There are Pillow and Blanket on your seat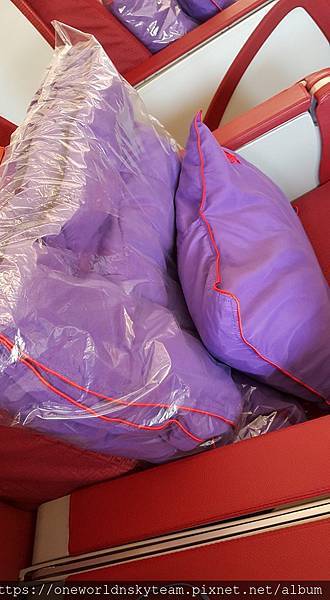 座位前方有放水的地方和安全须知卡和杂志 There is a place you could put a bottle of water and a place which had safety instruction card and magazine.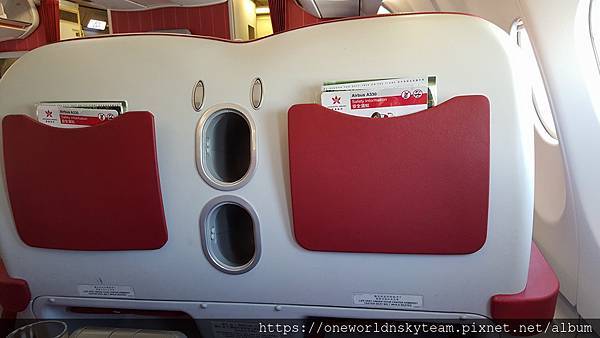 空服在这时候送上欢迎饮料和好热的毛巾 Crew distributed welcome drink and very hot towel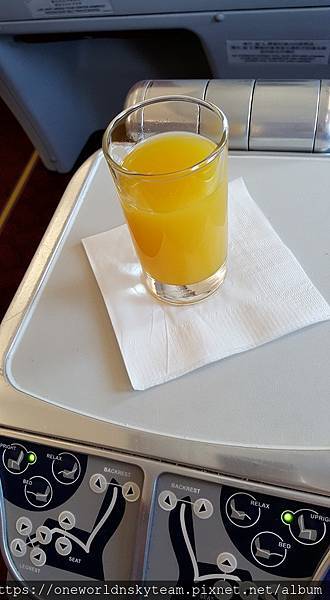 之后,空服回头派发当天的餐单After that, crew gave you the menu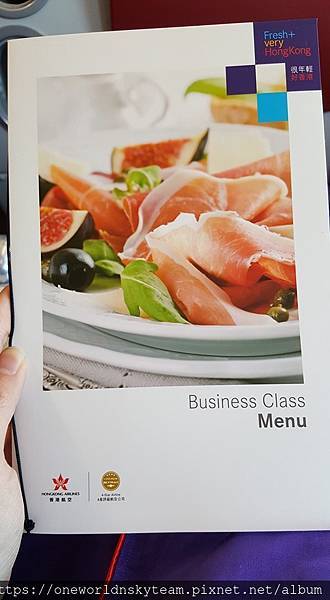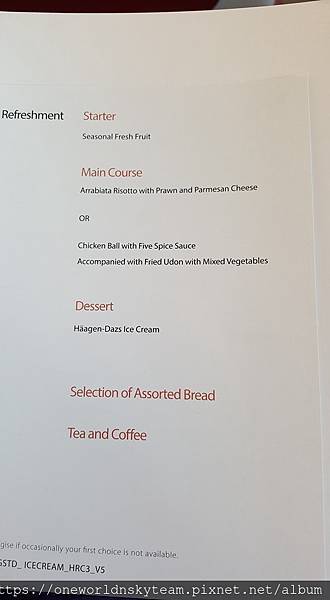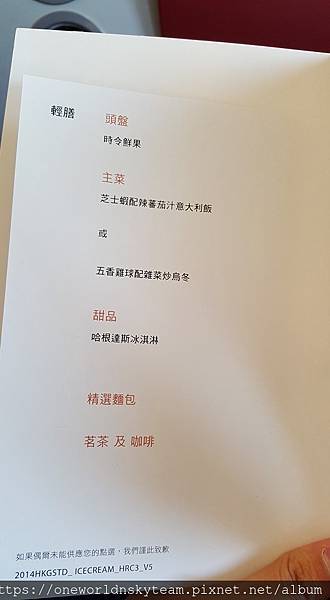 餐单好美啊~~~~ The menu is quite beautiful
我在考虑吃甚么的时候,高级舱务长便广播欢迎大家的广播和预备起飞的安全示范 While I was thinking which choice did I choose, the senior purser announced the welcome announcement and safety demonstration.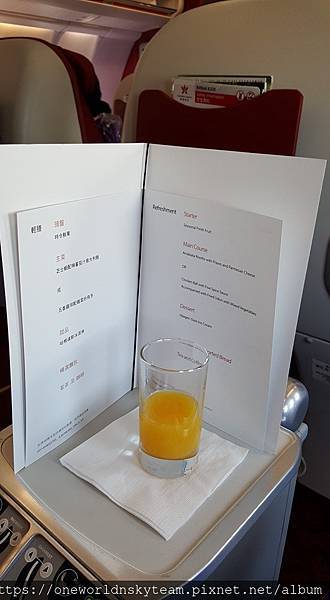 飞机开始后退 The flight had been pushback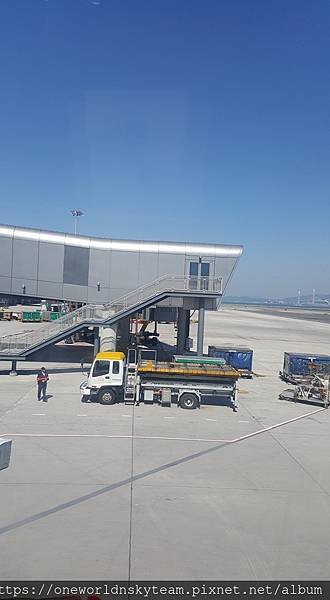 起飞后 After Take Off
先看看香港航空的机队 Let's take a look for Hong Kong Airlines aircraft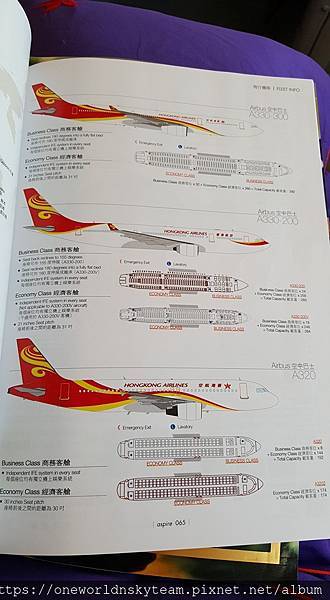 电视要从扶手下面拉上来 The personal TV is located under the armrest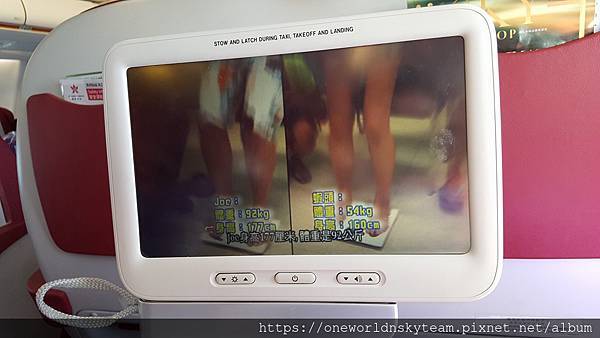 看了一下电视,空服便铺餐桌和送饮料 – 中国茶 When I saw the TV, crew set the table and distributed the drinks – Chinese Tea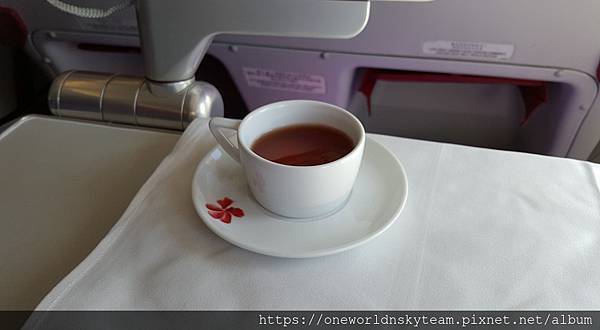 之后很快的送今天的餐点 Then, crew distributed the cateringvery fast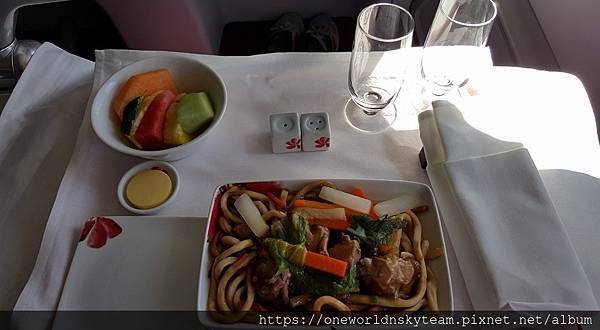 主吃 Main Course : 鸡球配杂菜炒乌冬 Chicken Ball with Fired Udon and mixed Vegetables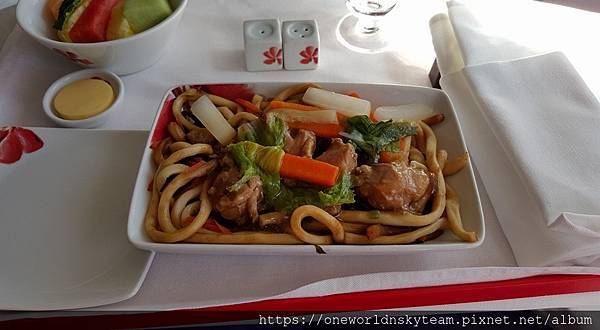 空服再派发面包和冰淇淋 Then, crew distributed the bread and ice cream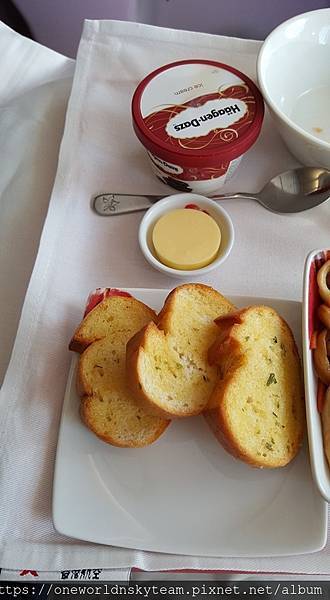 空服收餐后,会再问你需要茶或咖啡吗? Crew asked did you need the drinks after the crew collected the tray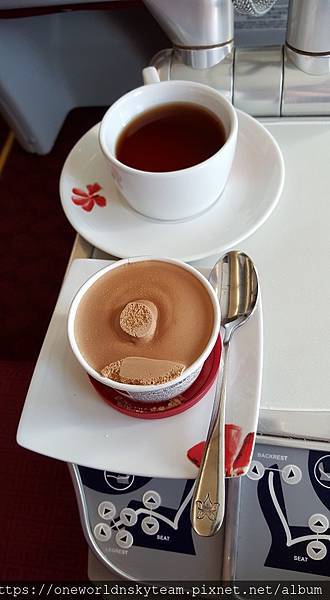 中国茶 Chinese Tea

冰淇淋 Ice cream
吃完后,还有一点点时间,就下了经济舱看了一下 I had a little time after I finished the meal service, I went to economy class cabin to take a look.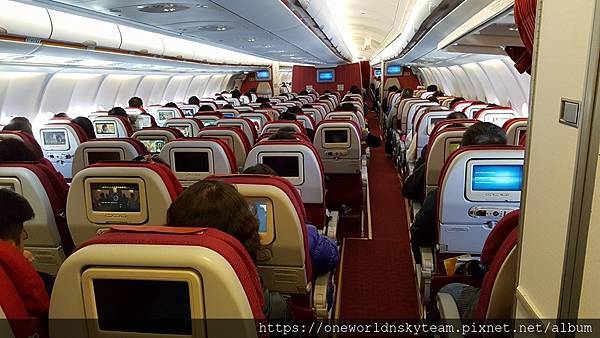 以2-4-2配置 Seat Configuration : 2-4-2

座位以

红色

为主 The main color is

red

有个人电视 There is personal TV in this aircraft
因为看到空服在忙,所以拍照后就返回商务舱休息 I returned to my seat because I saw the crew were so busy.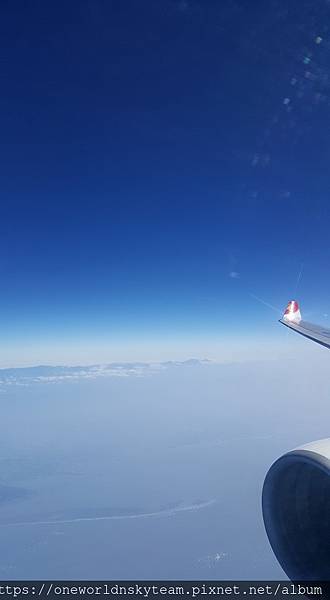 飞机降落前,我买了一些纪念品 I bought some HX souvenirs before the flight landed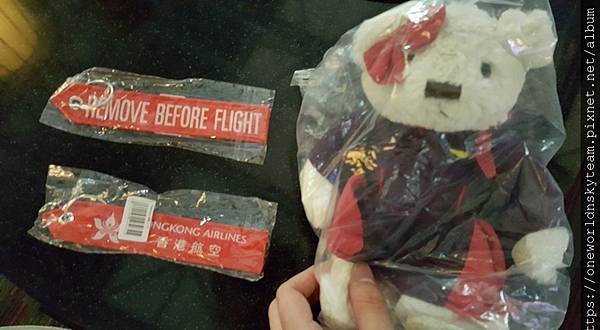 飞机最后晚了15-20分钟到达台北 Finally, the flight delayed 15-20 minutes to land Taipei Taoyuan Airport.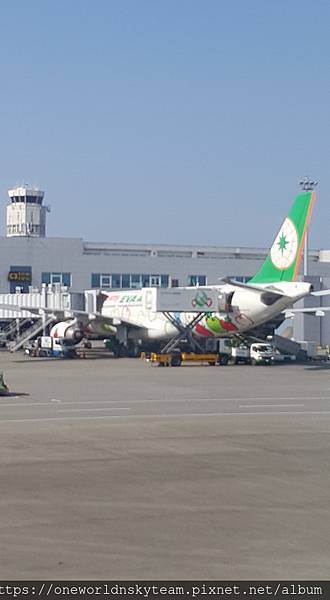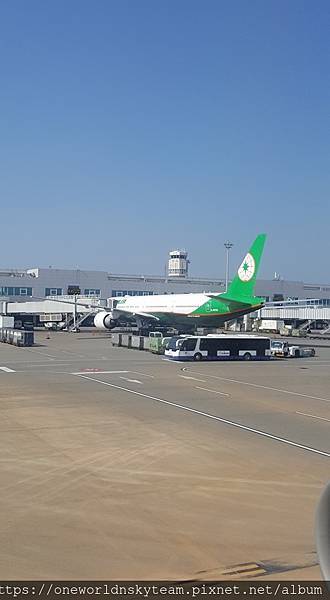 长荣航空新装 B777-300ER New livery EVA AIR B777-300ER
更多香港航空飞行记录 MORE HONG KONG AIRLINES FLIGHT REVIEW :
更多香港台北飞行记录 MORE HONG KONG TO TAIPEI FLIGHT REVIEW :